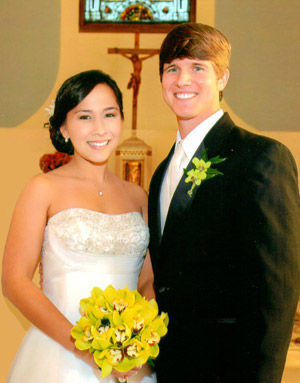 Marriage
The Parish community of the Basilica of Saint Mary Star of the Sea congratulates you on your forthcoming nuptials and desires to assist you in preparing for the Sacrament of Marriage. With the natural beauty of our island and parish many couples from around the world come to Key West to start their married life.
How can one ever express the happiness of a marriage joined by the Church, strengthened by an offering, sealed by a blessing, announced by angels, and ratified by the Father? How wonderful the bond between two believers, now one in hope, one in desire, one in discipline, one in the same service! They are both children of one Father and servants of the same Master, undivided in spirit and flesh, truly two in one flesh. Where the flesh is one, one also is the spirit.
[The Catechism of the Catholic Church #1642]
 It became clear a few years ago that our weekend marriage preparation course format did not accommodate your busy work schedules, which often keep you most busy on Friday nights and Saturdays.  Desiring to share with you the good news regarding the gift that this Sacrament imparts, we began implementing the F.A.C.E.T. marriage preparation tool through our parish-trained mentor couples. This program is personal and only requires two meetings with the mentor couple on a day and time that is convenient for everyone. Thus far, the F.A.C.E.T. program has been a successful and welcomed alternative to the general Archdiocesan formatted marriage preparation weekend retreats.
 If you are planning to be married at the Basilica of St. Mary Star of the Sea, we ask you to adhere to the marriage guidelines.
The marriage guidelines can be downloaded for your convenience via the following links:
For more information on how we can help you plan for your wedding, please call the Rectory Office at (305) 294-1018
Anniversaries
If you are in Key West on you anniversary please let us help you celebrate this special day with a blessing at one of the Masses.
Please call the Rectory Office at 305-294-1018 to make arrangements.