Stations of the Cross Garden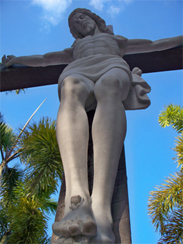 The Stations of the Cross Garden is yet another wonderful example of how the natural beauty of our small island and symbols of our faith come together to show the power and the sacrifice our Lord endured for each of us.
A rock garden behind the Convent and Renewal Center was transformed into a Stations of the Cross Garden, which was blessed by Bishop Felipe Estevez, Auxiliary Bishop of Miami, on December 12, 2004. The Stations are constructed of carrera marble with mosaics of the scene for each station, all framed in bronze, illuminated with night lights, and placed within a tropical garden. At the entrance of the Garden is a marble corpus on a wooden crucifix with a marble image of Our Lady of Sorrows looking on. This Garden has become a place of prayer for groups during the season of Lent and for individuals night and day throughout the year. Adjacent to a refectory used by the Parish for social events, this Garden, along with the seating in the refectory, is used for the three extra Masses on Easter Sunday. An estimated six hundred participants may worship in this beautiful space.
I. Jesus is condemned to death on the cross.
II. Jesus accepts his cross.
III. Jesus falls for the first time.
IV. Jesus meets his sorrowful mother.
V. Simon of Cyrene helps Jesus carry his cross.
VI. Veronica wipes the face of Jesus.
VII. Jesus falls for the second time.
VIII. Jesus meets and speaks to the women of Jerusalem.
IX. Jesus falls for the third time.
X. Jesus is stripped of his garments.
XI. Jesus is nailed to the cross.
XII. Jesus dies on the cross.
XIII. Jesus is taken down from the cross.
XIV. Jesus is placed in the tomb.