Welcome From Our Pastor,
Rev. John C. Baker
Welcome to The Basilica of Saint Mary Star of the Sea. You are invited to pray in the historic grotto of Our Lady of Lourdes, to adore the Blessed Sacrament in the "New Beginnings Chapel" and to visit our Gift Shop. We thank you for your contributions for the vast needs of our Basilica, School, and Parish Outreach. If you are a new parishioner, you are invited to stop by the Rectory to register and let us know how we may be of service to you. For information on the Basilica and a complete walking tour of the grounds, visit our Web App at bsmkw.com on your mobile device or click on the tab above. Self-guided tour of the Basilica pamphlets is available at the entrance of the Basilica. 

WELCOME FR. JUAN RUMIN DOMINGUEZ
Welcome to Fr. Juan Rumin Dominguez, who has been assigned by Archbishop Wenski to serve in our Parish.
Originally from Havana, Cuba, Fr. Rumin has served in our Archdiocese at the parishes of St. Rose of Lima, St. John Neumann and as Rector of the National Shrine of Our Lady of Charity in Miami.  
We are glad to have you as a part of our Church. 
May God enrich our lives together as we worship and serve Him.

  ASH WEDNESDAY SCHEDULE: MARCH 1, 2017
The schedule of Masses for Ash Wednesday will be:
7:30 am
12:00 noon
2:00 pm  (with Basilica School Students)
5:30 pm,  6:30 pm (with Religious Educations Classes)
         7:30 pm ( in Spanish)
DAILY MASS SCHEDULE
 During the Season of Lent there will be two daily Masses:
7:30 am (Monday—Saturday) &12:00 Noon ( Monday–Friday)
STATIONS OF THE CROSS
Fridays at 6:00 pm in the Basilica
Fridays at 7:00 pm in the Basilica in Spanish

Fri., April 7  7:00 pm-9:00 pm
Sat., April 8, 8:00 am-3:00 pm

, 

4:30 pm to 5:30 pm
Archbishop Wenski's ABCD Appeal Message to the Parish:
Dear Brothers and Sisters in Christ:
We were created in the image and likeness of God who is Love. Understanding that we are made in the image and likeness of God can help us to understand why God put into the humanity of every man and woman the vocation— and thus the capacity and the responsibility— of love and communion. To live out this vocation requires a growth in virtue that leads us to make gifts of ourselves to God and to others. Pope Francis says, "Charity is born of the call of a God who continues to knock on our doors, the door of all people, to invite us to love, to compassion, to service of one another. Jesus keeps knocking on our doors, the doors of our lives. He doesn't do this by magic, with special effects, with flashing lights and fireworks. Jesus keeps knocking on our door in the faces of our brothers and sisters, in the faces of our neighbors, in the faces of those at our side." The Archdiocese of Miami, through the Archbishop's Charities and Development Drive (ABCD), opens the door for us all to unite as one community of believers to evangelize by spreading the Good News of Jesus Christ, bringing hope to those in need. I write to you today to ask you to love your neighbors, selflessly and sacrificially. Please consider making a gift to the ABCD so that we can unite to feed the hungry, clothe the poor, care for the sick and dying, and touch the hearts of those in despair. Your generosity will also help us educate our children, assist the poorest of our parishes and schools, and provide shelter for the homeless. Together, we will continue to defend the dignity of all human life, eliminate prejudice, and promote social justice. Jesus is knocking on your door and inviting you to love and serve those in need through the ABCD. I pray that you will join me in making a gift, a gift blessed with sacrifice, so that we can continue to love others as He has loved us. Together, we are One in Faith, One in Hope and One in Charity. Thank you and God bless you.
With sincere gratitude and hope,
Most Reverend Thomas G. Wenski Archbishop of Miami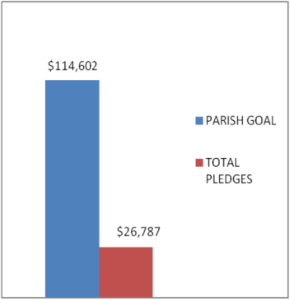 OUR PROGRESS THUS FAR:  A heartfelt THANK YOU  to everyone who made a commitment to the 2017 Archbishop's Charities and Development Drive (ABCD).  To date 42 parishioners have responded.  However, we need the support of all members of the Basilica of Saint Mary Star of the Sea if we are to be successful in reaching our Parish goal of $114,602.00. Now is the time to make a return to the Lord for all He has given us.  Even a small gift can make a big difference in the lives of those in need.  Whether you gift is $50.00, $365.00, $1000.00 or even $5,000.00, it is truly impactful and appreciated.  If you have not yet responded to the 2017 ABCD please consider making a gift — a gift from the heart—by using the pledge envelopes available in the pews or by making gift online at www.isupportabcd.org.  Thank you for all that you do and the spirit in which you do it.   God Bless You.